Ariadna Giménez's Instagram account, gaudism.ai, draws inspiration from Antoni Gaudí and his works, and has gained popularity with 115,000 followers
The account features 'gaudist' settings, which repeatedly showcase a world that is both imaginative and artistic, based on the renowned Spanish architect's designs such as the Sagrada Familia and the Parc Guell in Barcelona. Gaudí is an icon of Catalan modernism, an artistic movement that emerged in the late 19th and early 20th century, closely related to Art Nouveau.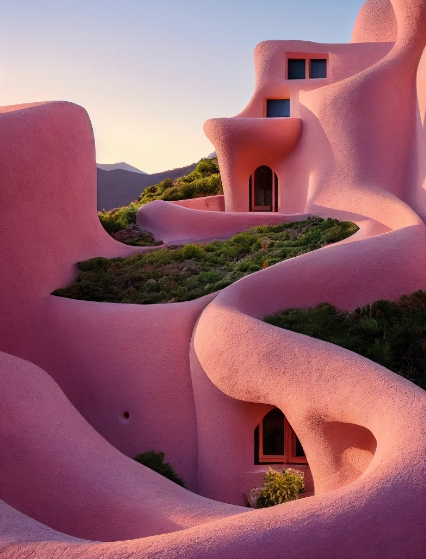 Ariadna Giménez, a 23-year-old visual designer, created the Gaudism project last year after completing her master's degree in architecture in Barcelona.
"I was going through a difficult period, so I found an escape route," she explained, referring to the genesis of her project.
She chose to use Midjourney, an artificial intelligence (AI)-based technology that has been highly successful in recent months, especially on Instagram.
"I was very interested in understanding how this tool could represent my ideas, so I started experimenting with it, and thus Gaudism was born."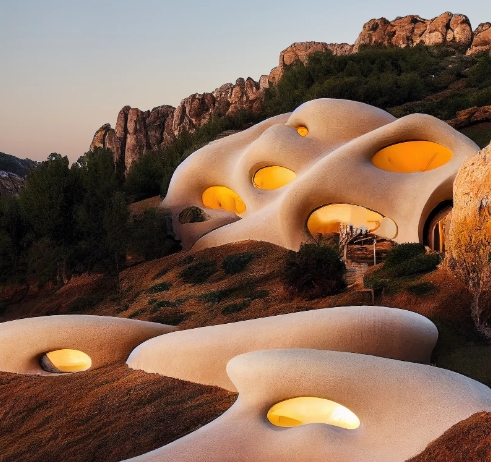 Along with her passion for Gaudí, she also likes to mention Isamu Noguchi, the Japanese-born American architect, sculptor, and designer who was fascinated by caves, in her publications. With 115,000 followers, the 'gaudism' settings that Ariadna endlessly repeats invite you to escape into a world that is both fantastic and artistic.
Why did you choose to work on Gaudí?
Ariadna Giménez: Organic architecture has always been my preferred style, but what sets Gaudí's work apart is the fantastic universe he created that invites us to dream, and that's the element I wanted to integrate into my work. I believe that in an era that is hyper-connected and noisy, this element is even more significant. We require spaces that provide us with an escape to tranquil and peaceful dreamscapes.
Your creative process?
During my experimentation with Midjourney, I dedicated three highly concentrated weeks to testing various textual possibilities. Text is the way we communicate with artificial intelligence. It's like having a conversation, but instead of receiving a verbal response, we get a visual one. Since I discovered my fundamental keywords in August, they have remained consistent. All I need to do is adjust the context to obtain different outcomes while maintaining the same style.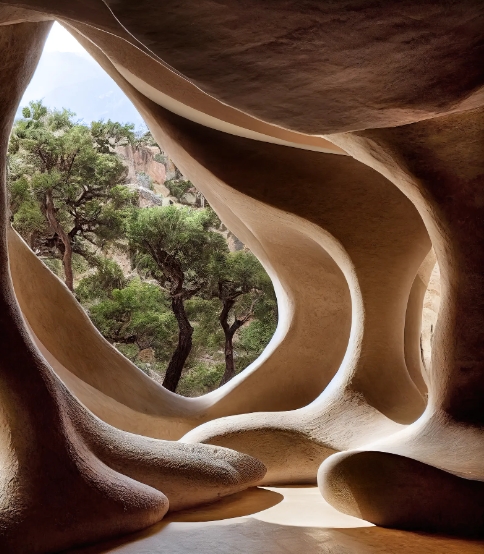 What drives you to create a new work?
My motivation stems from the desire to share my vision and help others see and appreciate Gaudism and its philosophy. The project's quick rise in popularity, to me, reflects a universal longing for a slower pace of life and a desire to explore alternative ways of living, including cave dwellings, in order to achieve a deeper sense of peace and connection to the material world.
How do you choose the results you get from artificial intelligence?
I select images that maintain a consistent visual quality and style. I also enjoy being repetitive to establish Gaudism as a distinctive style.
What do you think about artificial intelligence?
I view artificial intelligence as a permanent tool that designers will need to increasingly adapt to. Throughout history, writing on stone transitioned to paper and then to digital media, with tools constantly evolving. While I recognize the ethical debates surrounding AI and the problematic use of people's work without their consent, I believe that AI tools will evolve to become more ethically responsible. Ultimately, the ethical use of any tool depends on how it is employed. To ensure ethical practices, I personally use only natural and existing references in my work.