The boundaries of the imagination have never been so blurred. Dreaming of buildings that resemble the pistils of a flower, thick fishing nets that wrap around the facades of the buildings, or again, metropolis in the shape of gigantic yellow trams seems abstruse and unthinkable. But it's not.
AI has revolutionized – and is still doing so, in an increasingly decisive way – our way of living, working, researching and shopping online. And, in the meantime, embrace the challenges of current events and explore unusual horizons. One of these is precisely the world of architecture. Some designers have given life to a new working method, for now exclusively experimental, based on the design of buildings through artificial intelligence. Among them: Reem Mosleh, an architect originally from Jordan, Manas Bhatia, an Indian computational designer, and Hassan Ragab, a designer from Egypt. Specifically, they decided to take a completely new path, combining design with machine learning.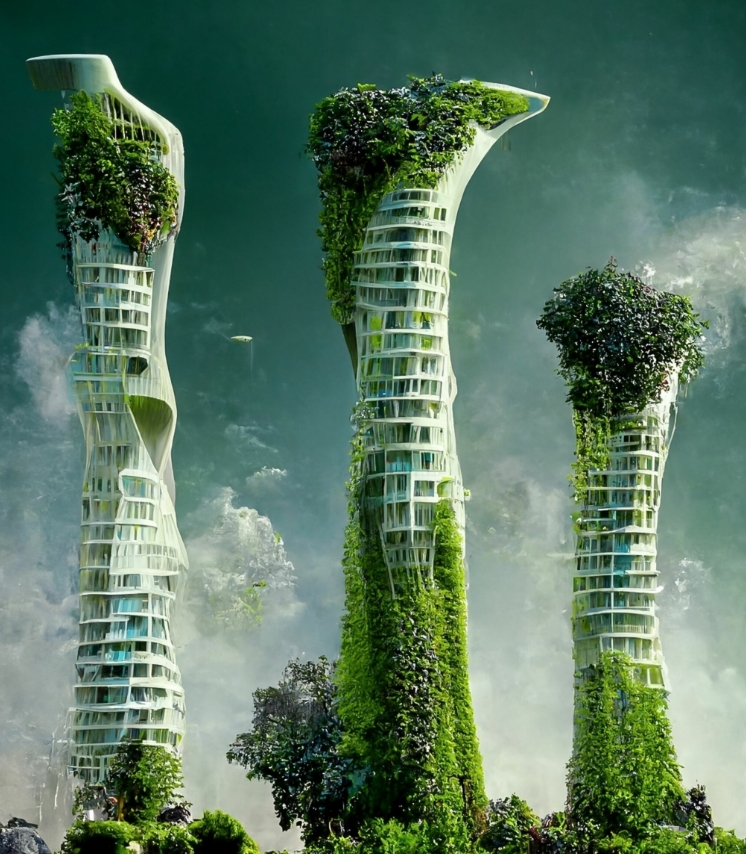 Designing The Architecture Of The Future On Midjourney
To do this, they relied on Midjourney, an AI platform which, starting from simple text inputs, generates complex original images. Like other similar software, including Dall-E 2, Stable Diffusion and Craiyon, Midjourney also works starting from the insertion of the so-called prompt, or a combination of words or phrases that can be used to describe what you want to view.
"The AI processes the prompt and creates more images. By changing the input, the results are also distorted and it is in fact necessary to carry out several iterations and try various combinations to obtain the desired result. This process is called 'prompt-craft'," explains Manas Bhatia.
By typing even the most absurd sentences, such as "a sloth eating french fries on a Caribbean beach", after about a minute, the AI processes the textual suggestions and creates the related images. Each of the designers in question has "asked" Midjourney to design futuristic housing or neighborhood projects that are not only interesting, but also potentially in line with the principles of sustainable architecture.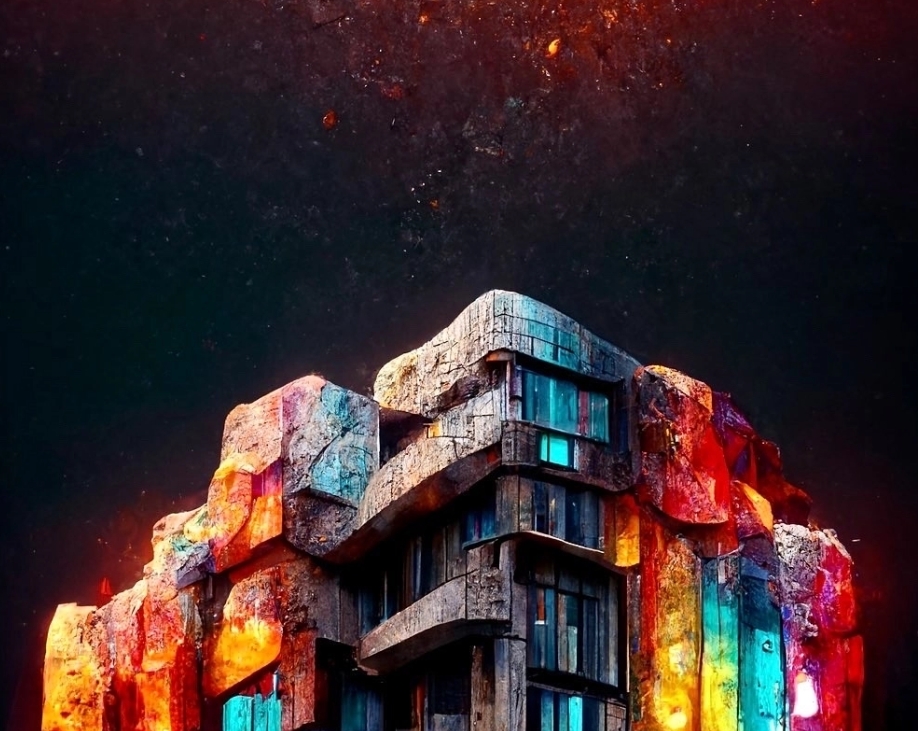 The 15,000 Projects Of Jordan Architect Reem Mosleh With Ai
Reem Mosleh, an architect originally from Jordan who works between Australia and China, relied on the platform to give vent to her imagination, combining bio-architecture with typical Jordanian homes, with references to the works of Bernini.
Among her projects generated with the help of AI, there is Glowing Technology: buildings capable of emanating light autonomously.
"The global energy crisis is affecting most of the big cities which sadly, in order not to waste electricity, shut down and stay in the dark at night," Mosleh explains to Artribune. "Thus I began to imagine what could happen if our buildings had ambient lighting technology that radiates light independently, without the help of man, with significant energy savings".
In Society ‒ Fishnet, on the other hand, Mosleh has imagined the facade of a huge building completely wrapped in a thick fishing net.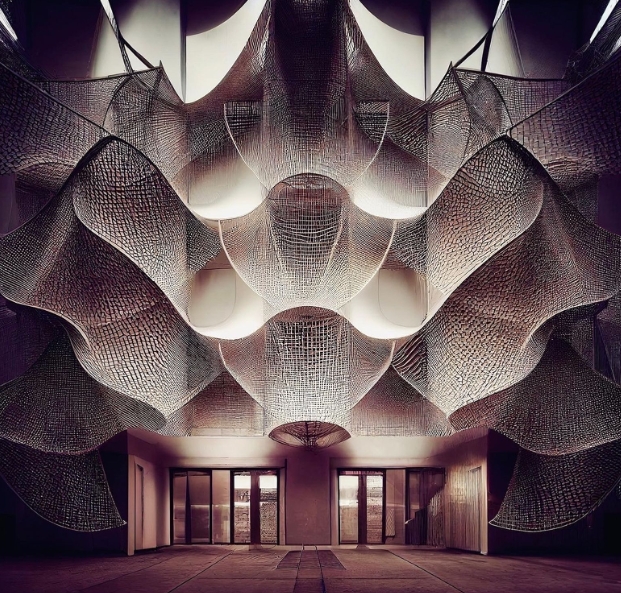 The Potential Of Artificial Intelligence In Architecture
"Every society" – says Mosleh – "has its own culture, but with globalization some customs have been lost. I reflected on how to revive the ancient traditions, old methods and crafts of the past, focusing especially on Cambodia. The tensile structure facade that I created is inspired by the fishing nets typical of this culture. I think the dialogue between past, present and future, while trying to preserve tradition as best as possible, is very interesting".
Skyscrapers that look like the pistils of a flower, houses wrapped in rose petals and huge entrance halls with glass domes and walls covered with climbing plants: these are just some of the 15,000 projects conceived by Mosleh in recent months, with the help of the AI.
"My working method" – he concludes – "is this: I try to start with simple words in the prompt, based on specific mixes of ideas and emotions that I have in my head. Then I try to understand how the AI interprets my words and, based on this, I develop more and more precise prompts. So far it has only been about finding out how this tool works and finding a way to communicate my thoughts to a machine, in the best possible way. It would be nice, one day, to bring some of these ideas into reality."

Reem Mosleh, Glowing Technology
The Green Metropolis Of Indian Designer Manas Bhatia
Manas Bhatia, architect and computational designer from New Delhi, has created a green metropolis of the future. The AI x Future Cities project includes air purification towers, vertical gardens, floating bridges and suspended green areas. All this, with a principle of eco-sustainability at the base.
"I wanted to convert thoughts into something graphic without subjecting them to the conventional digital sketching and modeling process," says Bhatia.
But that's not his only experimentation: the designer has also imagined buildings built with "living" materials that grow over time. The project is called Symbiotic Architecture and includes apartments built inside colossal trees, clearly inspired by Hyperion, the Californian sequoia which, with its 115.66 meters, is the tallest in the world.
"We" – continues Bhatia – "build houses with materials that are not beneficial for the environment, such as cement, and we use air conditioners to achieve thermal comfort, contributing to global warming. But what if instead the buildings regulated their temperature autonomously as living beings do? Or did the skyscrapers purify the air? The basic idea is to learn from nature to build an architecture that can coexist with it".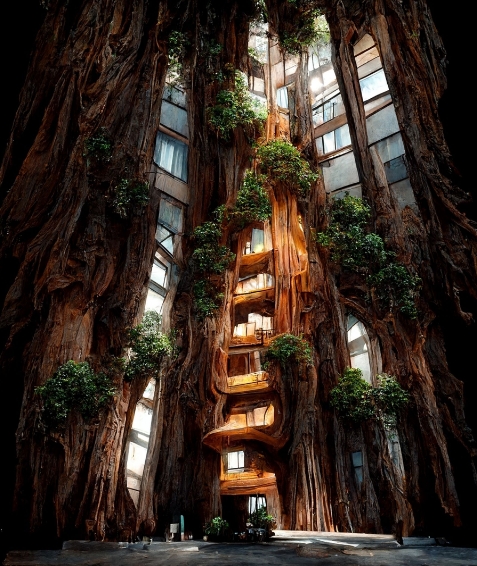 The Conceptual Architecture Of Hassan Ragab From Egypt To The Usa
Finally, Hassan Ragab, an Egyptian computational designer transplanted to California, has generated with the same tool what he has defined as "conceptual architecture works of art".
In The City is a Tram, Ragab has imagined his hometown, Alexandria in Egypt, as a metropolis "in the shape of a tram": it develops in height and the yellow facades recall the external design of a tramway, with the aim of paying homage to the most widespread means of transport in Alessandria, which over time has become one of the identifying symbols of the port city.
"For me" – explains the designer – "AI represents a tool, a work support, just like the keyboard is for the writer. It obviously does nothing for humans, but it has many advantages, such as speed in the conception phase, rapid drawing and the power to expand the boundaries of imagination in a short time".
For some of his creations, Ragab was inspired by the Art Nouveau style, exploring the most extravagant combinations, such as the idea of building facades with iron bars used for building reinforcement in full view (Buildings made from concrete rebar rods), develop swaying buildings and affix feathers to buildings (Feathers Architecture).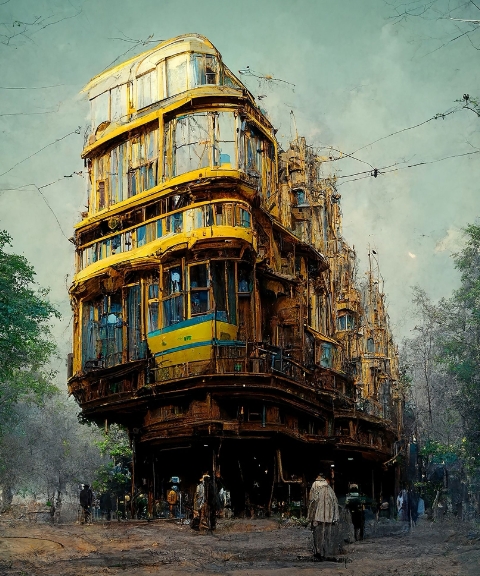 Parametric Design And Intelligent Systems
The recent popularity of imaging tools, such as Midjourney, has raised questions and concerns about the inventiveness and originality of designers and artists.
"Remember that when AI is used to create something, the starting input is always a thought generated by the human mind. Estrus belongs exclusively to man. The AI is just the machine that translates it. People have to learn to adapt to technology: those who are creative can become even more so thanks to artificial intelligence only if they choose to shake hands with it, instead of waging war with it," says architect Bhatia.
However, the partnership between artificial intelligence and architecture is not new. Specifically, the application of AI in this area has made it possible, for some years now, to solve complex problems more efficiently. Parametric design, for example, is based on an intelligent system: models are automatically generated by algorithms, without the need for manual intervention, based on specific inputs and parameters. Furthermore, AI is exploited both in planning, to perform predictive analyzes and cost estimates, and in augmented reality simulations, to provide the client with a complete vision of the architectural project. Not only. Intelligent lighting systems work thanks to a particular technology that allows them to calibrate, in total autonomy and without human support, the lighting parameters in a certain space according to needs, with considerable energy savings. Even with regard to video surveillance, there are intelligent security systems that can quickly detect suspicious activity, and intelligent locking systems that limit or prevent access if you don't have a specific code.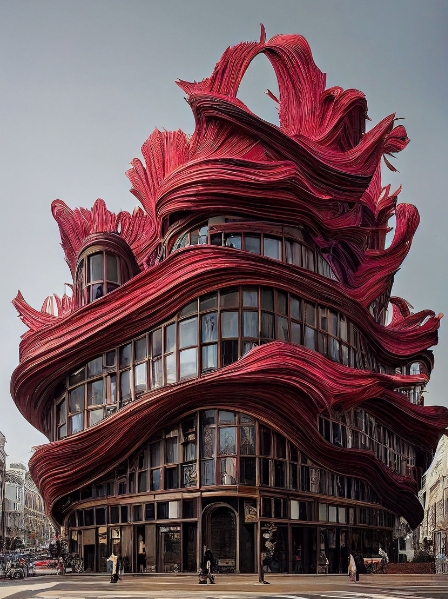 Architecture, Ai And The Future
On the other hand, the creative support of AI for architecture represents a new trend that hints at a possible change in the way urban planning and infrastructure are conceived. In fact, the "virtual assistant" would constitute an additional element in the design, allowing to increase the imagination of those who design and consequently speeding up the creation process.
"Most artists and architects take days, months, sometimes years, to develop ideas. AI can be a tool to overcome the limits of creativity, halving the timing", underlines the architect Reem Mosleh.
"More than others, architects" – he concludes – "are subjected to considerable work pressure on a daily basis to meet deadlines. The solution is to be able to work smarter, not harder. Advanced technology, such as machine learning applied to design, could really help us achieve the balance between work efficiency and well-being in private life".
An idea that, over time, could become less and less utopian.