Amid a time when humanity's negative influence on the environment has become glaringly apparent, the notion of rewilding is emerging as a potent strategy for conservation and ecological rejuvenation. Aligned with the increasing focus on landscape architecture, the concept of minimizing human interference in our natural environments to restore a harmonious balance presents itself as an effortless, almost mystical means to address fundamental climate issues. However, is the essence of rewilding solely centered around non-interference with nature, and how does this interplay with the realms of architecture and design? This exploration delves into essential principles, practical implementations, and illustrative instances to shed light on the topic.
At its essence, rewilding is geared towards reversing the impacts of habitat loss, dwindling species populations, and the degradation of ecosystems. This entails allowing nature to reclaim its inherent spaces and functions. The movement signifies a bold departure from conventional conservation approaches and embraces a restoration-oriented concept of coexistence with flourishing natural landscapes. Catalyzed by initiatives tied to the UN's Decade of Ecosystem Restoration, spanning from 2021 to 2030, numerous countries including Ireland, Sweden, Nigeria, Australia, India, Chile, the USA, and Indonesia have already embarked on rewilding initiatives, as indicated on a map provided by the Global Rewilding Alliance.
Aligned with the perspective of environmental historian Laura J. Martin, rewilding might initially appear to be at odds with construction and design endeavors. However, there exist several fundamental principles associated with this concept that can actually be supported by architectural structures and creative design. Discovering inventive approaches for expediting nature's regenerative journey, aiding in conservation efforts, establishing routes for animal migration, and creating natural habitats are specific interventions that align with the objectives of a philosophy often perceived as exclusively "non-interference." To gain insight into this, it's beneficial to explore the facets of rewilding most closely connected to our constructed surroundings:
Habitat Connectivity
Habitat connectivity revolves around the creation or preservation of pathways that enable species to traverse between fragmented habitats. Within rewilding endeavors, particular emphasis is placed on establishing these corridors or wildlife crossings to promote animal mobility, thus contributing to genetic diversity, adaptation, and the vitality of populations. Although pathways can evolve organically through certain ecological interventions, a recent showcase by Cave_bureau at the Lousiana Museum of Modern Art introduces the idea of actively constructing such a corridor in Nairobi, Kenya – their hometown – to assist the indigenous Massai community in cattle herding, while simultaneously rejuvenating the region for other wildlife species.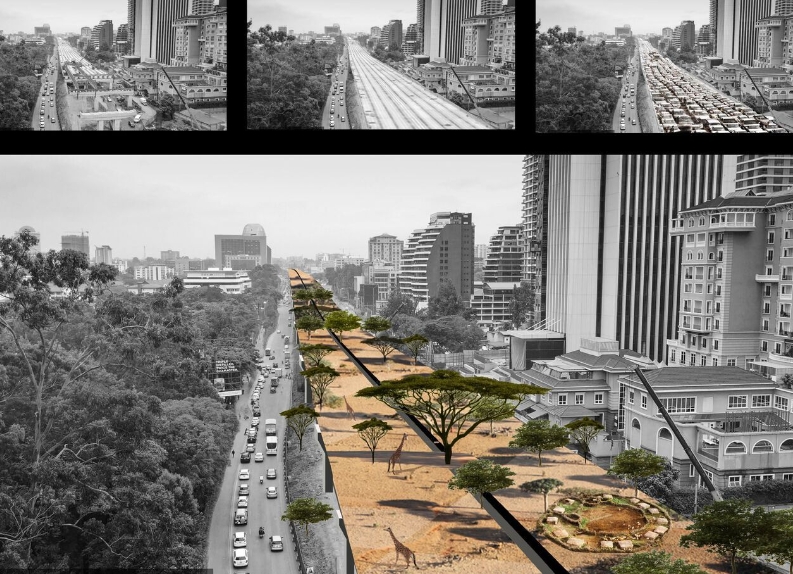 Biodiversity Conservation
Biodiversity constitutes the core of rewilding initiatives. Through the promotion of diverse collections of indigenous species, rewilding amplifies ecosystem robustness, bolsters the prospects of rare and endangered species, and upholds vital ecological functions. Especially in urban locales, rewilding targets the conversion of underutilized urban areas into pockets of biodiversity. Rooftop gardens, verdant corridors, and parks all play a role in advancing urban rewilding endeavors. Notable instances encompass projects like Arsomslip Community and Environmental Architect's Benjakitti Forest Park and Architects 49's Center of Excellence for Forest Conservation.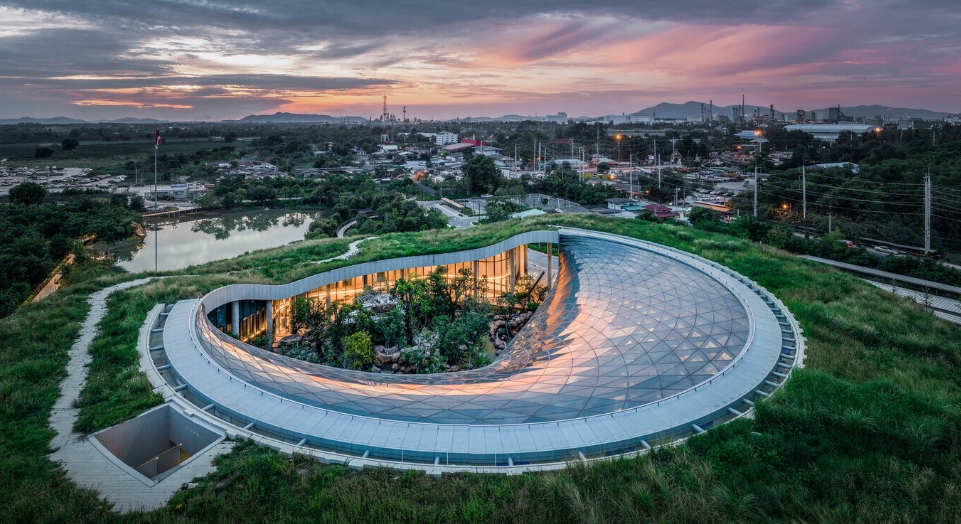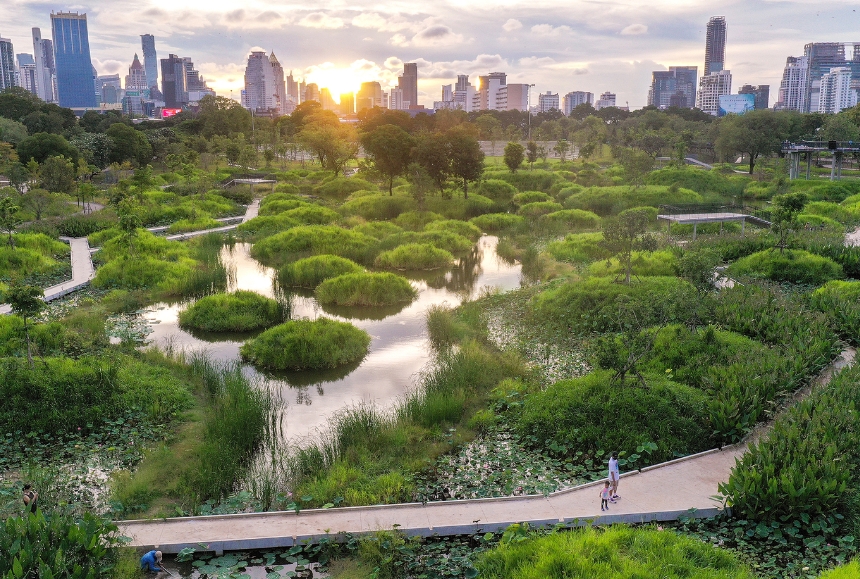 Cultural and Indigenous Perspectives
A contextual perspective on rewilding accentuates the restoration of indigenous communities' ties to their ancestral lands and traditional ecological wisdom. Through the incorporation of indigenous traditions and viewpoints, cultural rewilding endeavors endorse a comprehensive conservation approach that heavily relies on local resources and heritage. While this approach doesn't solely revert environments to their pre-colonial condition, it presents a durable, integrative option compared to more rigid rewilding strategies that entirely exclude human involvement.
Architectural and design movements that prioritize the environment, such as contextualism, Lo-TEK, biophilia, or biomimicry, deeply draw from these three fundamental rewilding principles to craft sustainable and rejuvenating structures that foster a harmonious reconnection with nature while accommodating human communities. While some interpretations of the movement lean towards excluding human involvement entirely, the absence of a formal definition or established guidelines has enabled numerous architects and designers to seamlessly integrate rewilding concepts into their projects.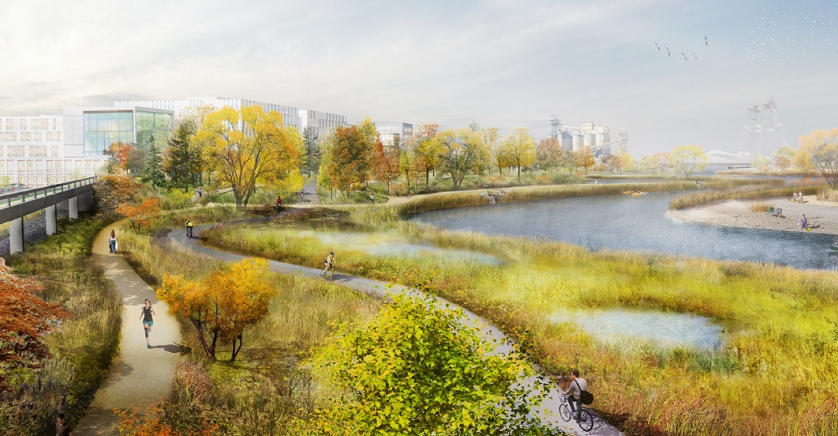 One of the most ambitious endeavors to date is the Port Lands Flood Protection Project in Toronto, Canada, undertaken by Michael Van Valkenburgh Associates. This initiative, touted as one of the city's most extensive infrastructure projects, aims to establish a new river valley within Toronto's industrial Port Lands region to mitigate flooding during major storms. Simultaneously, it envisions the creation of parks featuring walking and cycling paths, animal habitats, and a residential neighborhood encompassing affordable housing units. With a slated debut in 2024, this project is poised to effect a remarkable metamorphosis of a formerly underutilized and polluted area, offering a promising blueprint for achieving resilience, biodiversity, and housing objectives within a single locale.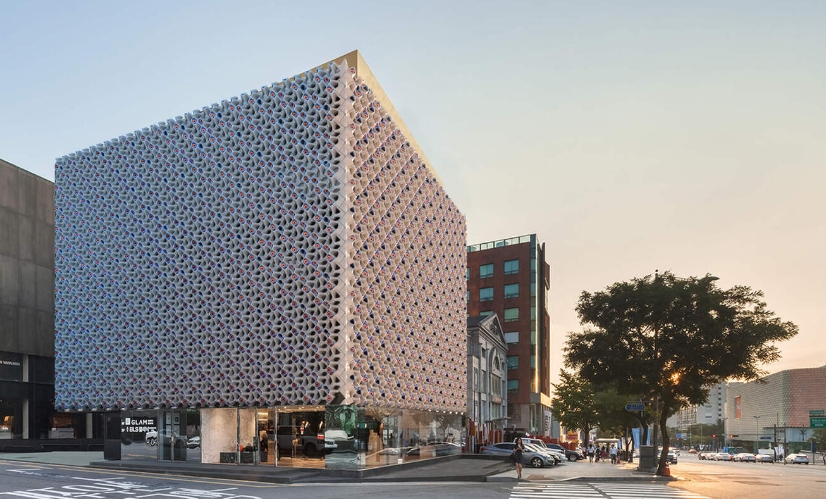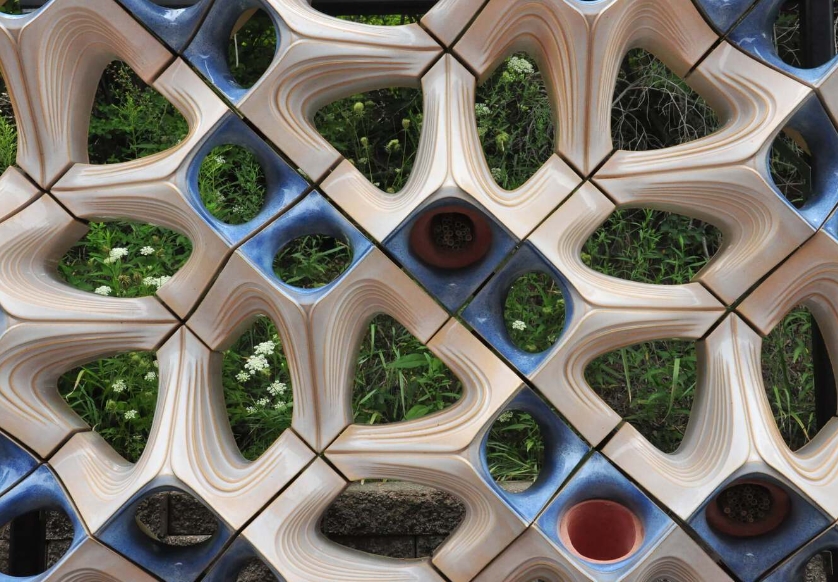 However, rewilding innovation need not always be grand in scale. In 2022, COOKFOX Architects, based in New York, teamed up with Buro Happold to devise a terra-cotta building facade designed to offer habitats for bees, birds, and plants. This prototype perceives building exteriors as self-contained ecosystems – areas of biological restoration and vitality even within densely urban settings – instead of mere assemblies of materials serving as weather barriers. The modular arrangement of slip-cast pods reimagines familiar shapes from biophilic design (notably coral reefs and rocks) in a more sculptural fashion that still accommodates birds, bees, and plants.
While further research and established guidelines are essential, it is evident that the rewilding movement signifies a significant transformation in our interaction with architecture, design, and the environment. By acknowledging the significance of allowing nature to thrive and rejuvenate, alongside recognizing the necessity for deliberate intervention and coexistence in specific instances, rewilding presents a comprehensive design approach. This approach aims to reestablish ecosystems, revitalize species, and safeguard the delicate equilibrium of our planet's vulnerable biodiversity.