Especially in the damp and cool season, the thought of an extraordinary pool in an attractive location fuels the anticipation of next summer. Very special pieces of jewelry have been awarded the "Biotop Design Award" in Vienna. There were three categories: Swimming Ponds, Living Pools and Conversions and Renovations.
"Every year, the traditional Design Award honors our partners' most exciting projects," says Jasmin Nöbl, Managing Director of Biotop GmbH, "we are impressed by the quality of the concepts submitted and proud to have the best GaLaBau companies as Biotop partners." The company is positioned globally with 92 license partners. The company headquarters of the natural pool specialist is in Weidling near Vienna. According to the information provided, there were 42 entries from 19 partner companies from seven nations that took part in the competition.
Combination of swimming pool and garden pond
An eight-person expert jury consisting of landscape planners, architects and journalists selected the winners in three categories. In the Swimming Ponds, a combination of swimming pool and garden pond, the "Lichtspiele" system by Schellheimer Garten- und Landschaftsbau GmbH from Germany won the race. Various squares and rooms are arranged around the 140 square meter swimming pond, with an exciting mix of modern and Mediterranean elements. The extraordinary project also won the "Biotop Partners' 1st Choice Design Award". Natural Swimming Pools LTD came in second with the project "Breathtaking Viewpoints in Southern France". The linear swimming pond is set in a terraced garden and offers incredible views over the Mediterranean Sea. Potsdamer Gartengestaltung GmbH secured third place with a "small wellness oasis", while Florijk came in fourth with the "Urban Idylle" project.
From a counter-current system to sandstone slabs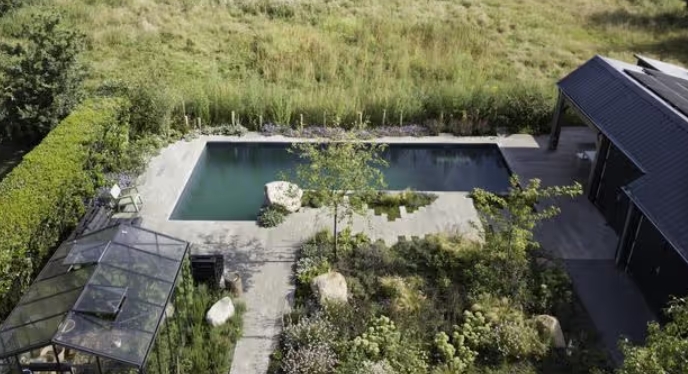 The Koninklijke Ginkel Groep came out on top in the "Living Pool" projects. Their "naturally thought around the corner" concept has a lot to offer – from the counter-current system to sandstone slabs and wonderful greenery around the pool. Second place went to ES Plan+Gartenwerkstatt GmbH with a Living Pool sports pool that grows out of the terrain and is surrounded by a wavy lawn. Elements of Nature PLC took third place with their "Corner House" – a picturesque living pool in Kent, England. Fresner Garten- und Landschaftsbau GmbH came in fourth with the "Living Pool with Infinity", a display pool framed by lavender and colorful perennials.
A small biotope becomes a large swimming pond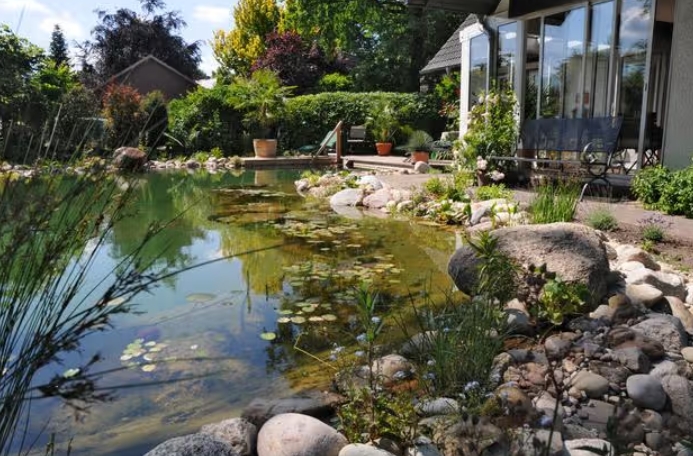 In the best conversions and renovations, GaLaBau Kreye made it to the top of the podium with a particularly successful conversion project. An existing, small biotope was converted into a large swimming pond. A lot of value was placed on a natural construction and only local material was used. This created a new habitat for flora and fauna. Second place went to Viridee NV for converting an existing chlorine pool into a swimming pond. The swimming pond merges with the open meadow landscape and is the ultimate natural leisure oasis for the whole family. Tuinen Brouckaert BVBA came third with the conversion of an existing pond into a swimming pond with a bathing area and a living plant zone as a mini ecosystem. Fourth place went to Geoblauw by Geonet BVBA, who converted a fish pond and part of the patio into a living pool that blends beautifully with the patio and house.