Yanmar Compact Equipment has been pursuing the corporate mission "A Sustainable Future" for ten years. At the Bauma trade fair in Munich, the construction machinery manufacturer presented three electric newcomers – the SV17e mini excavator, the V8e wheel loader and the CO8e transporter.
The Japanese state the goal of offering a full range of electric compact machines in the future. At the trade fair, there was a foretaste of the emission-free offensive in the form of brand new models. Yanmar had already presented the said mini excavator as a prototype at the end of 2021. At that time it was said: The SV17e serves the segment from 1.5 to 2 tons, is with electric drive and 48-volt batteries with fast charging function a quiet, emission-free machine that meets even the strictest emission regulations.
Mini excavator is to be delivered from 2023
After extensive field tests and customer reviews, the mini excavator has now celebrated its premiere at Bauma 2022. "Customer feedback has been positive, with operators praising the cab's design and comfort, ease of operation and charging, and the machine's overall performance and strength," Yanmar shares. The SV17e is planned to be launched in Q2 2023 and expected to be delivered from Q4 2023.
E-wheel loaders for cramped construction sites in the city
In addition, the prototype of the V8e wheel loader was to make its first public appearance. With an operating weight of 4,500 kg, it is suitable for heavy lifting work on cramped urban job sites, according to Yanmar. The V8e will benefit from a powerful built-in charger that provides 11 kW in the standard configuration and 22 kW for optional fast charging. The wheel loader is expected to be launched in the first quarter of 2024.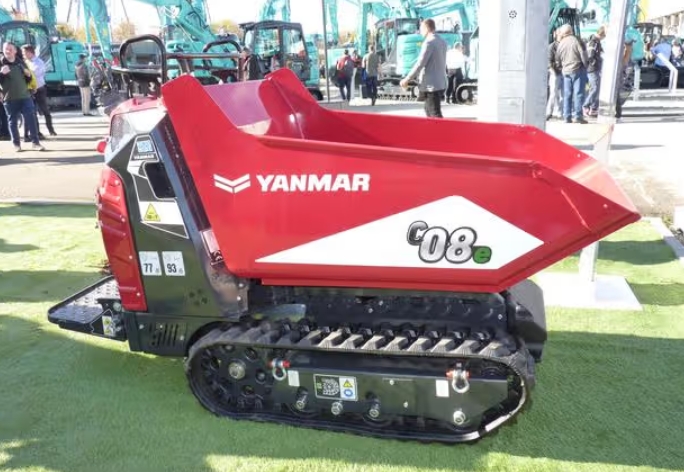 Electric transporter with intelligent LCD control panel
Finally, the zero-emission trio completes the pre-production electric van C08e. Operating weight: 566 kg. With power and manoeuvrability, it should shine in tight areas. The C08e has an intelligent, color LCD control panel, on which the working mode can be conveniently selected. This should increase productivity and save energy. Yanmar has announced that the new transporter will be introduced in the first quarter of 2023, with delivery starting in the second quarter.
By 2050 operations free of greenhouse gas emissions
"Since 2012, our corporate mission at Yanmar Group has been 'A Sustainable Future,'" says Shiori Nagata, Yanmar Group CSO and Director and Member of the Board of Directors, "Not only do we want to please our investors, it's really our passion, our goal – and our dream." And further: "By 2050, our operations will be completely free of greenhouse gas emissions; we will recycle all resources and support our customers to achieve the same emissions targets as us."